Larry Rogers Jr. Scholarship est.2016
Workstudy Enterprises Incorporated department of after school tutoring, would like to announce the inception of The Larry Rodgers Jr. Scholarship. This scholarship is designed to embrace the character of Mr. Larry.
Students with a desire to succeed in math or would like to pursue a career in engineering, may qualify for a scholarship for tutorial services at our main facility located at 4450 Oakwood Lane Matteson, IL.
Larry Rodgers Jr. became an employee of Workstudy Enterprises by divine intervention. One day while riding by; Larry saw the Workstudy sign and decided to stop in and simply see what the Workstudy was all about. Larry and I had a moving conversation; discussing the children of this generation and what we were doing in this community to make a difference. Larry assured me that he could and would share the vision of Workstudy that Cherryl and I had started two decades ago. Larry loved the Lord and quickly embraced the vision and journey at hand. After our conversation we both knew this was the place for him however; he was scheduled for back surgery the following week.
I expressed to him that I would keep him in prayers but couldn't guarantee him a position at such a later date. We concluded the conversation with optimism and a feeling that our paths would soon cross again.
Our paths did cross again, and Larry was able to begin his legacy at Workstudy Enterprises in the winter of 2014. Larry's legacy will continue through this scholarship. Our hearts are heavy but we are comforted in knowing that "Our Paths Will Cross Again."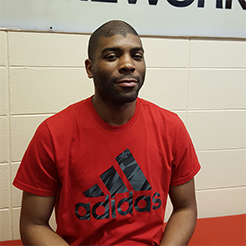 To be the preferred partner in the educational community, present an education advantage and teach positive life skills to every child in our program.
By Phone: 708.283.5706
 By Fax: 708.283.5706
Your Homework Headquarters